by Jo Spindler | athlete's stories
During the lockdown, there were athletes who just accepted they couldn't race - And then there was Anja Kobs.
Anja was supposed to run the Vienna City Marathon on April 19th. Of course, the race was canceled. In response, many would have taken time off and relaxed. Others would have continued training for a new date. And then there was Anja.
She decided that, on that same day the race was supposed to be held, she would run a marathon by herself. Not only that, she decided she would run it under the three-hour benchmark — a goal she had in her sights for a very long time. As she phrases it: "Breaking sub-3 has been a ten-year-long story of humor, hopes, persistence, setbacks, and first and foremost dreams."
In 2008, Anja was living in London. Every year, in April, she was seeing the participants of the London Marathon flying by her flat and thought that was utter nonsense. "They didn't look well," she thought. "This cannot be fun."
Then she moved to Chicago in December 2009. Seeing the runners by Lake Michigan, she was tempted to start running. She was not interested in 5k or 10k races. She wanted to start with a marathon.
"Once something gets into my head, it will be executed! No matter how many tears and times it takes, I will do it!" she says.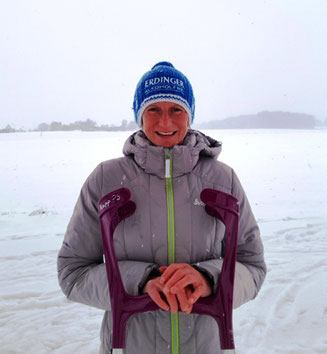 It didn't take long to hit her first obstacle. In August, she had her first stress fracture (left heel bone). But in October of that year, she ran 25km of the marathon and walked the rest. The way back took her three times as long as it would have taken to complete the whole event.
In 2011, Anja moved back to Germany and resumed her marathon project. It didn't take long to get a second stress fracture (on the same spot as the first one).
"I realized that my training strategy wasn't successful, so I hired my first coach," she says. "A young triathlete who let me go cycling and swimming. I pretty much liked that concept of warming up with those disciplines before running, so I did my first triathlon in 2012 and then finally finished also my first marathon in October 2012 in Frankfurt (03:24)."
Through her triathlon training, the next year, she improved her marathon PB by ten minutes and -- on the same course in Frankfurt -- she clocked a 3 hours 14 minutes marathon time. That happened to be  a stormy edition of the race, and her pacer told her something that would inspire her for years to come: "Under normal conditions, you could have done 03:12, and from there, it is not far away to 3 hours."
But her new focus was in triathlons, so it took almost four years to aim for sub-3 once again.
After finishing her first long-distance triathlon in July 2016 (Zurich), she was looking for some new goals. And because running has always been her favorite discipline, she came up with a clear idea of tackling the 3-hour benchmark in April 2017.
Three weeks before her marathon race, she injured her sacroiliac (probably a blocked ISG joint that caused inflammation over time). How? By trying to overtake some guys running past. Despite her new injury, in September of that year, she was runner-up at the Powerman Long Distance Duathlon World Championships in Zofingen.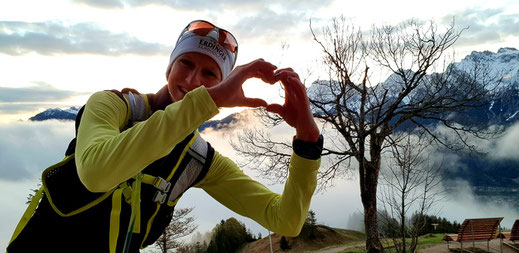 Anja got in touch with me in October of that year (2017), and that's when we started to work together. But she suddenly got injured again and needed to stop running for three months. This was rather a mistery: the day before we started to work together, she injured her hip while doing jumping jacks (probably an underlying issue with her spine). Without a specific training for her marathon goals, though she trained for long-distance triathlons, she still ran Frankfurt (in October 2018) in 3 hours 14. Her form was there, after all.
That fall, we laid down the foundations for her April 2019 sub-3 Project. Guess what happens in December, after only one week of training? Another injury (again, not 100% known, but probably her spine again), and a further four months without running.
"Doctors and physios had written me off completely (you are too old, your body is broken after all those years, blah, blah, blah)," she says. "In April 2019, I did my first running laps on Mallorca after being treated by Jo every day on my back."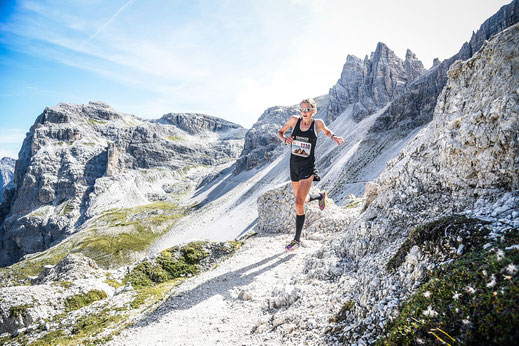 Since last summer, we focused on running again, still targeting the Frankfurt marathon for the fall of 2019. Although she didn't get injured this time, something else was waiting for her at the gate.
"I was again in really good shape, and I didn't get any injury, but two weeks before the race I got ill. Damn it!" she says. "I was still ill when I started the race, and I had tons of exit strategies. I was 100% sure that I would break down, but I somehow managed to finish at 03:00:06."
Not only did she miss the sub-three threshold by six hundredths, but it was because, at kilometer 41, she had to stop for 5-10 seconds to let an ambulance pass by. With the legs full of lactate, finishing the marathon proved to be quite a task. Yet, her achievement was almost there: she had improved her PB by 14 minutes and only needed a bit of luck.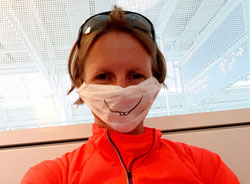 "After that fantastic race (which took me over two months to recover from though), I got faster and faster," she says. "It was hard to stop me, no injuries (as I didn't do any nonsense) on my way to Vienna 2020, but then, as we all know: corona came along."
Anja got the idea of running a marathon by herself after clocking 38 mins for 10km in training.
So there she was on April 19th, 2020.
She set up a 4.85 km loop and ran it for a total of 8.7 times.
She started to run with a pacer, but after a few km, he blew up.
Her pace was not sustainable for him. He joined her again for the final km.
In the end, she clocked a 02:58:40 marathon, running the second half 12 seconds faster than the first one.
Moral of the story?
"Have dreams, work damn hard, never lose faith, stay grounded and be patient, even if it takes four long years with tons of obstacles," she says.
I couldn't agree more. Hard work always works.