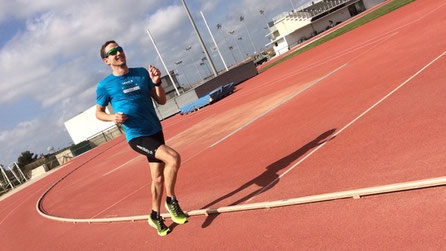 by Jo Spindler | race results
Last weekend I have a really busy racing weekend with my athletes behind me. The European season is starting to speed up quickly. The best thing for a coach is when he sees that the hard work is paying off. 
Boris Hueber raced IM 70.3 Barcelona and he did an incredible job. Boris sticked exactly to the time schedule and had really great split times of: Swim 31:58mins Bike 02:34:24hrs Run 01:21:56 hrs. With an overall time of 4:33:43 hrs Boris ran into the Top 30 (including professionals). With this time he won his Age Group at IM 70.3 Barcelona. Very well done.
Three of my athletes were racing one of the oldest Ironmans in the world: Ironman Lanzarote. 
Victor Osokin from Russia was my 2nd athlete racing Lanzarote. At the end he did exactly the times I was expecting him to do although he wishes to go faster but I needed to lower his expectations and that we still have a long way in front of us. One big achievement was his swim split with 1:01:37hrs which means a new PB for Victor. Biking and running was as expected, only the run a bit slower because he struggled with some stomach problems. With a 26th place in his Age Group we can look back on a solid race and know where we have to work on. There is still some air left for improvements.
Ramses Arroub from Egypt was my 3rd athlete who raced this famous Ironman. Like Victor he had a solid race. Ramses was a bit disappointed about the swim because at IM Lanzarote they don't have a rolling start. Because of the new athlete's AWA status which allows them to start between the professionals and all other athletes Ramses needed to start behind all of them. At the end he swam dipsy-doodle and had 4kms on his watch in a time of 1:02hrs. The bike was going as planned, only on the marathon Ramses was struggling a bit. But at the end he reached a fantastic 17th place in his Age Group.
Viola Frey choosed Lanzarote because she is a very strong cyclist. Unfortunately her legs were like crab on race day and she couldn't push at all. Therefore Viola was fighting like she always does. Never saw her giving up. Viola finishes the tough bike course and was running her way home in 7th position of her Age Group. There are some days in racing and training which are really crab and nothing wants to go as you want it to go. Then you have to accept it, put your head down and go through it. At the end of the day you can proudly say that you gave your best and survived another challenge. It only makes you stronger.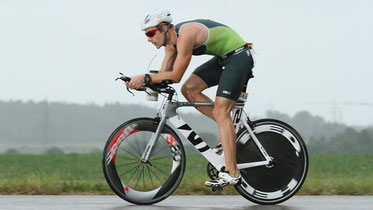 Peter Rudolph set several PB's at the Olympic Distance and proofed that you can get faster even when getting older. In a local race Peter got 4th over all and became 2nd in his Age Group. But not the podium spot is the only fantastic thing, also that he was able to improve his swimming time and set a new PB with 37mins on the 10kms. Over all he broke the 2hrs wall (finishing time 1:57hrs) over an Olympic Distance which he hasn't reached over the last 11 years. Always happy to help my athletes to reach their goals.
An what could be better than an athlete who is getting older but still getting faster;-)?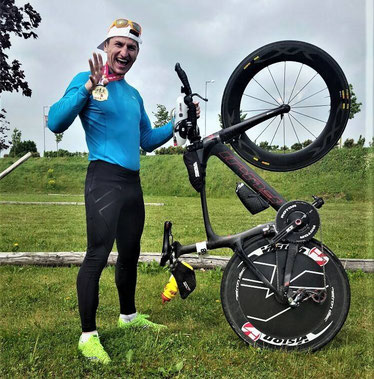 Daniela Manser and Pascale Truempy were racing Zofingen Duathlon. While they were racing in the same Age Group unfortunately only one of my ladies was able to take the victory. They both showed a great performance and were fighting each other toughly. Despite burning legs Daniela had a fantastic race. She crossed the Finish Line as 2nd women over all and won her Age Group in 58:12mins. 
Last year Pascale always had solid races and improved a lot over the season, she was always a bit unlucky and caught the wood medal several times. This year she had a great kick-off of her season while gaining the silver medal behind Daniela. Pascale had the fastest bike split of her Age Group. We are satisfied to get the so well earned podium finally.
Mihai Vigariu raced the Ironman 70.3 St. Pölten. One can say that this race was the toughest IM 70.3 last weekend. Due the heavy rain the transition area was flooded, the wind was blowing and the 10 degrees felt more like 5 degrees on the bike. Despite this crazy conditions Mihai did a great race. With a 29mins swim, 2:34hrs on his brand new Fuji bike and a final 1:27hrs half marathon he grabbed the 7th place in his Age Group.