by Jo Spindler | race results
During the past 4 weeks my athletes achieved 3 race wins and placed 9 times on the podium in both the Professional and Age Group categories. However some of the most impressive performances cannot be expressed in numbers. For example Markus Hoermann finished 10th at Challenge Roth in a strong international field, a fantastic comeback after he suffered an almost career ending hip injury 13 months earlier. Or with a personal best after many years of racing, Steffi Jansen stormed into Top10 overall at Challenge Roth, despite being an amateur. Or Shiao-Yu achieved her fastest ever long course time despite a 5min time penalty at IM Frankfurt. Plus we have all that personal bests and continued improvement from Moritz Bachmann, Pascale Truempy, Sandra Schoeni, Peter Rudolph, Mihai Vigariu, Victor Osokin,  Carmen Grosse to just name a few. At trisutto success is not (only) measured by collecting race wins and podium finishes, REAL success is progress on each individual athlete's journey to become the best he can be. It makes me very happy to see athletes reaching their goals and that I still can improve them even after many years under my guidance. I'm just a very lucky guy to work with so many dedicated athletes and great persons. 
Weekend 15th/16th July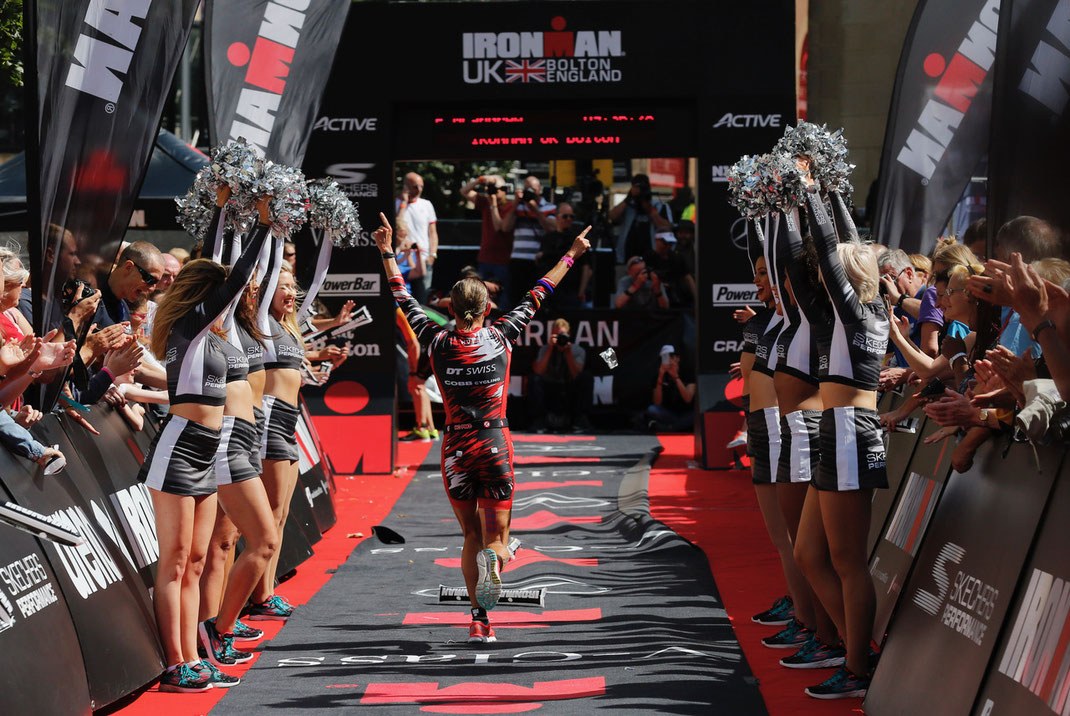 Diana Riesler had a strong race at Ironman UK and finished 2nd after a thrilling battle with Lucy Gossage for the whole marathon. That Diana again had to drop out of Ironman Frankfurt was a big disappointment. She again suffered from hypothermia due to the non-wetsuit swim for the pros. So we decided for a back-up race at Ironman UK, to at least secure Diana's ticket for Hawaii. There is no course in the whole Ironman racing that suits Diana less than this race at Bolton. It's a complete "anti-Diana" course. A cold and rainy bastard, with lots of cornering and steep descends and climbing. That she still finished 2nd on a rainy day just shows how well she did and how mentally strong she is! No, she does not fear the cold. As long as she can wear a wetsuit, cold water temperatures are not a porblem. She did her swim training for IM UK in a 12 degree cold river. Her body is just not made for nen wetsuit swims in less than 24,5 degree water. 
The water in Bolton was 19 degrees and wetsuits allowed. Diana had a good swim, was 2nd out of the water and took over the lead very quickly at km 36 already. She led the bike until the 160k mark. Roads were wet for almost the entire bike leg and especially the first hour was very cold. Many pro male athletes crashed. Not so Diana. She roade super carfully. Too carefully. She really climbed the hills faster than she decended it. Lucy, who knows the course well took over the lead and quickly worked herself into a 2min lead in T2. Knewing that Lucy is a super-strog runner, I thought the race for 1st was over and it was only to secure a 2nd place that would earn Diana enough points for her Kona slot. Not so Diana. She run incredibly strong and step by step, second by second she gained time back from Lucy. She came closer and closer. With 5k to go, she was as close as 80 seconds. But the course was only downhill from there, so hard to make up more time on that decending section. With Lucy in shight down the road she finished 2nd. A time of 3:08 on that hille marathon is her strongest performance ever. She missed the win, but her 2nd place felt like a win after the setback in Frankfurt. Kona slot secured with a big show and a real confidence building effort. Diana never believed she can run well. No matter what coach said. Now she proofed herself wrong with an outstanding performance!
Another outstanding performance came from Peter Rudolph who finished 2nd overall at the Berlin XL distance race. He had a strong race in all 3 legs, but especially on the bike. We seem to have really buiolt a big bike engine into his body over the past 2 years of training. Peter then finished off with a super quick 1:21h run. Watching Peters progression over the years makes me happy and humble. And it's so statisfying to see the work and effort we put into his training paing off.
And the final podium came from Rowan Forster. Only 7 days after winning the slot for the Ironman 70.3 World Champs, he finished 3rd in his age group at the ITU Olympic Distance race in Hamburg. Very solid performance in all three disciplines and happy, that he could back up his strong race in Sweden with an equally strong race in Hamburg. Well done Rowan and looking forward to your race in Kona already.
---
Weekend 8th/9th July
This weekend was a great one for my squad. Almost everybody achieved a personal best time and I'm very happy seeing all the consistent and hard work paying of big time now. Fantastic performances on all fronts.
One of the most emotional races came from Markus Hoermann who finished Top10 at Challenge Roth in his first ever full distance race. He had a 52mins swim, 4:28hrs bike and 2:59hrs run. Only 13 months ago Markus was diagnosed with a severe hip impingement injury. He underwent an huge operation where part of his bone was removed and was told to never be able to do the sport on a professional level again. What seemed like the end of his professional career was just a reset and a new start. However we worked deligently on Markus' recovery. He swam a lot, could not run for 6 months. What seemed like the worst thing in his life so far turned out to be a pleasuere in disguise. Markus bounds back and made him a more complete athlete and person working on his injury and come back made him a better person and stronger athlete. This weekend in Roth Markus improved the impossible possible and not only finished his first long distance race but stormed into international Pro ranks.
Moritz Bachmann had a fantastic race. When we discussed race pacing on our last call before the race we calculated with a time of 10:15hrs on a perfect day. And what should I say? Morirtz delivered to the minute and finished in a personal best of 10:15hrs. 
Also in Roth Steffi Jansen finished 8th over all, 3rd amateur and 2nd in her Age Group. She although had a perfect race and a personal best time. On top she prooved the impossible possible as well. She overcame a lot of personal set backs and illness earlier this year. I always believed in her abilities and mental strength. Steffi prooved me right as one of the highlights of this weekend. When you don't believe in yourself, believe a person who believes in you. Thank you Steffi for a long-term coach-athlete relationship and so many outstanding results.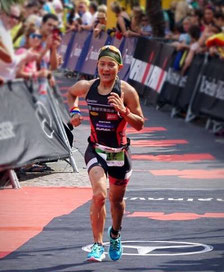 At Ironman Frankfurt Shiao-Yu Li had a much better race than she believed she could do. Finishing 10th in a competitive field. Three weeks ago Shiao-Yu flying from Taiwan to Germany to prepare together with my professional squad for this event. Every time Shiao-Yu arrives in very poor shape but then the coach builds her up to decent fitness in just a few weeks relying on her unbreakable will and warrior attitude. In this preparation we do a lot things different. Only two days after her arrival I had her race an Olympic Distance backed up by a sprint dfstamce seven days later and then the big race in Frankfurt. The days between those races were filled with a lot, hard training and some days Shiao-Yu was so tired that she felt asleep whenever she sat down between the sessions. But she never missed or cut a session short. I'm super happy that everything worked to plan and that Shiao-Yu improved her personal best time for long course race. Very well done Shiao-Yu. Looking forward to your next one. 
Mihai Vigariu finished his first ever long distance in a fantastic time of 9:32hrs. Executing race plan almost to perfection. Only at the end of the Marathon he struggled a bit with nutrition which cost him a few minutes. Funny thing was, that whenever I cheereed him at the course he stopped pedaling and almost fell of the bike. :-) Well done on a strong race Mihai. We keep raising the bar.
Victor Osokin also improved his personal best time for the Ironman distance race in Frankfurt going Sub10hrs for the first time in his life. He had a mechanical on the bike which cost him about 10-15mins to repair. But Victor never lost focus and motivation and just carried on. I'm more than happy that he still could achieve a personal best despite a technical problem on the bike shows which a good athlete he is. We are already working on his next goals by improving his nutrition loosing a bit of weight for a hot run at Ironman Malaysia.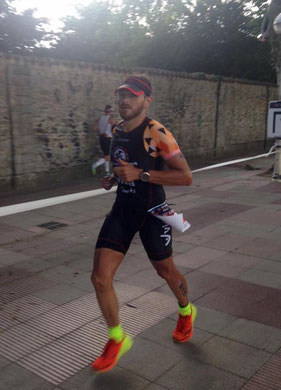 Bernat Xavier Vidal raced the long distance Triathlon Vitoria-Gasteiz, Spain. Before the race Bernat faced several personal problems, including an operation which banned him from the pool for two weeks and one week from running and cycling. He was concerned that the time will be enough to be good in Vitoria-Gasteiz. But while he is very focused, dedicated and passionate about the sport, I was sure that he will have a good race there. The only tricky part is the swim which took him a very long time: 1:24hrs. Then he made up many places on a 4:53hrs bike ride and except of the last 5kms of the Marathon it almost went to plan. At the end Bernat missed a Sub10hrs just by 3mins.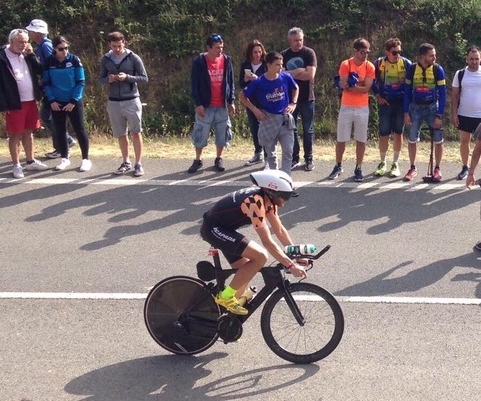 Boris Hueber did another preparation race for Ironman Zurich at Elsassman. Finishing 4th over all and posting the fastest bike split of the day out of a full week of training.
Rowan Voster did a great race at IM 70.3 Jonkoping finishing 4th in his Age Group with solid performances in all three legs. He got his slot for the 70.3 World Champs.
Although out of a hard training week Adi Glaettli did the Sempacher See Triathlon performing well on tired legs. He felt great on the swim, had a solid bike and toughened it out on the run. Only Youngsters of his Age Group were in front of him.  
Sandra Schoeni showed again a strong race at Sempacher Triathlon beating former training mates. Sandra keeps improving from race to race and growing self-confidence through her training and racing. Happy to work together with such a dedicated athlete.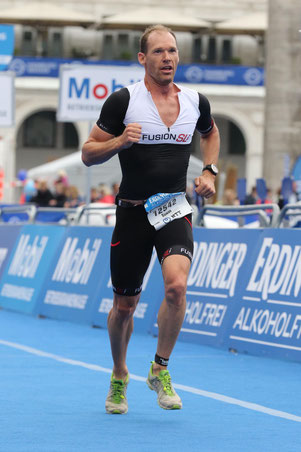 ---
Weekend 1st/2nd July
My pro girls Diana Riesler and Shiao-Yu Li were both racing the local race Hassesee Triathlon Rossbach near Diana's old adopted home town Merseburg. For Diana it was like coming home because she started 10 years ago with triathlon at the local club TC Merseburg. While she never lost contact to her old friends it was great to meet them after such a long time.
The sprint triathlon (700m swim - 30km bike - 6km run) fits nicely as a preparation race for Ironman Frankfurt. It is a very well organised race with nice people and a great atmosphere. At the beginning Diana said she just want to go hard and wants to keep up with the boys. Shiao-Yu was surprised about the professionality of such a race and that everybody is so eager to race hard. Shiao-Yu lost a bit in the swim and Diana missed the leading group by 45sec. But she made up a lot of time on the bike and in between she even was 2nd overall. And the boys in great panic to not getting chicked. The final run was not an easy one. Diana won the race easily and became 9th overall. Shiao-Yu became 4th girl. Friendliness is her nature, so she told herself that the girls are fighting so hard for 2nd and 3rd that it might be better to let them pass. It was a really good preparation race. The best thing was seeing Diana's big smile again and Shiao-Yu experience the hard German competition attitude.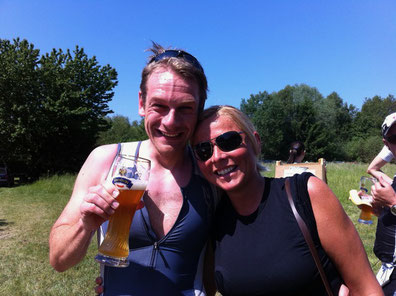 Peter Rudolf finished off a hard training block with the Tegernsee Triathlon, a Olympic distance race in Bavaria. After a lot of training he of course had heavy legs. Fatigue is part of his training regimen. But Peter didn't mind his legs nor the rainy weather and finished 5th overall and 2nd in his age group. He had a fantastic bike split being the only athlete of the day who rode the 40k in less than 60min. 387W average power and 417W normalized power are very nice numbers and show how far Peter has improved with incredibly consistent training. That beer at the finish line was more than earned. Bavarian fuel for that big engine. ;-) More than happy with this test race and looking forward to his upcoming highlight in 2 weeks in Berlin.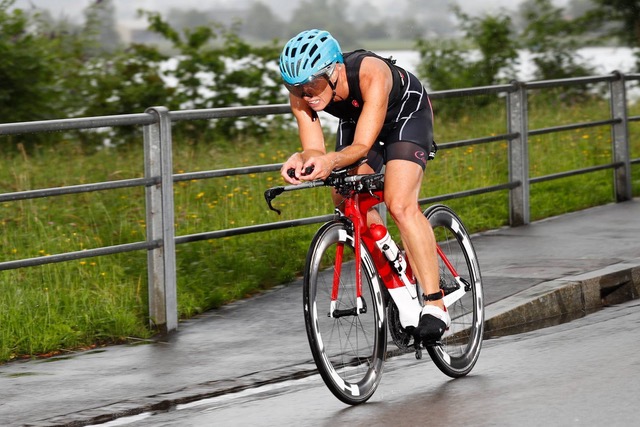 Pascal Trümpy won the sprint race in Uri, Switzerland. Her first win in her athletic triathlon career! Pascale had strong races over the past weeks already. Being a race horse, that intensity boosted her overall abilities a lot and added some fun to her training. Also, at some point we decided to race without watches and powermeter. Just race by pain. That serves her much better. 
Pascale had a good swim, then really powered through the the bike. The bike is her strongest leg. Plus I've set her up in a quite decent time trial position. So she achieved an impressive average of 38kph. Off the bike in 2nd position, Pascale still had to pull off a strong run for the win. And she delivered! Sprint races are short and they hurt. I'm more than happy that Pascale toughened it out for her first win. Pascale was 9 minutes faster than in last year's race. What a great improvement!
---
Weekend 24th/25th June
While my athletes were racing all over Europe I was driving through half of it: Starting on Mallorca, through Sapin mainland, France, Switzerland and finally Germany. In between I was picking up Shiao-Yu, our Taiwanese triathlon celebrity and her manager in Switzerland, watched Jenny's strong race at Chiemsee Triathlon and finally reached Merseburg in the heart of Germany where some of my squad will do ther final preparations for the European main races Frankfurt and Roth. 
All that travelling was only topped by a fantastic racing weekend of my athletes.
Jenny Schulz recovered well from her crash at the IM 70.3 Kraichgau and was facing a really strong field at the Half-Distance Chiemsee Triathlon race, Germany. Not for nothing the Chiemsee is known as the Bavarian Sea. Thee start gun was not only the sign for athletes to enter the water, but also for some heavy wind and a bit of rain to start and athletes were facing big waves and Jenny struggled a lot in this conditions. Since 2 buoys got lose and were blown away from their spots she even took the wrong course, had to swim back, lost a lot of time and exited the water 5mins behind the first girl. After this she was close to give up the race. Luckily I was at the side watching, so she good not just step out of the race. It was her first time with the new bike on wet roads and she still had the crash from the week before in her mind, so Jenny started the bike a bit cautious, but quickly gained confidence and finally did a great job on the bike. 2nd fastest bike split. As always she was smashing the run and got really close to the winning lady Daniela Sämmler. With her 2nd place far ahead of German Olympion Ricarda Lisk we are on the good path to get closer to the top. It was the bast race I've seen from Jenny so far. Well done!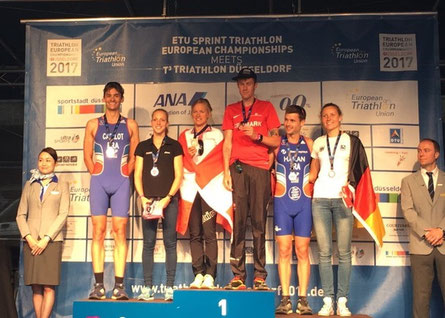 Sabrina Stadelmann got her second Vice-European Champion Title within one week. She raced the ETU Sprint Triathlon European Championships Duesseldorf. Due to rainy conditions it was a wetsuit legal swim where Sabrina was fighting to not get submerged because she is not used to such a brutal swim start. Towards the end she overtook a few athletes and was pushing hard except in the corners where she cycled carefully because of the wet roads. Sabrina entered T2 as first female of her AG but ran past her bike. Meanwhile one lady was overtaking her in T2 who became first at the end. Sabrina was going full gas on the final 5kms, had a really strong run, and got in 2nd position onto the podium. It was a great race, practicing race stress and smooth transitions and to excel in the heat and pressure of a super short race, which leaves no room for any mishaps. Another great test of Sabrina's abilities. Onwards and upwards to new heights! 
Sandra Schoeni decided short-termed to start at the Spiez Triathlon, Suisse. We wanted to keep the pot boiling from last weekend and her 3rd place at the Zyttrum Triathlon. Sandra felt strong in the swim and the bike and didn't repeat the mistakes in the transition area from last week - you learn by every race. To her own surprise she felt much better on the hilly run course than last week. The only disadvantage at a single start race is that you never know where you are placed at the moment. At the end Sandra missed her AG win by only 12sec. But nevertheless she is really happy with this result and can't wait to collect more podiums at upcoming races.
Mihai Vigariu was organising and racing the Ocean Lava Half Distance race in Rumania. For him it was the most crowded and stressful event because to take part in the organisation it is a different story and absorb a lot of time and energy. Anyway, for this circumstances he had a really good preparation race for IM Frankfurt in two weeks time. Learning from mistakes in former races Mihai had a better pacing strategy and was not overheating on the run by cooling down himself. While a middle distance is not hard enough he did the bike with a broken derailleur and the oversized pulley was is contact with the cassette all the time which resulted in a friction and the pushed power was a bit lost. Luckily it is happening in this race and not at Ironman Frankfurt. But at the end he became 4th and is happy with his position and looking confidently into the big one. We had so big improvement in his training and that he could perform so well under full training and working load makes me very confident for his race in Frankfurt.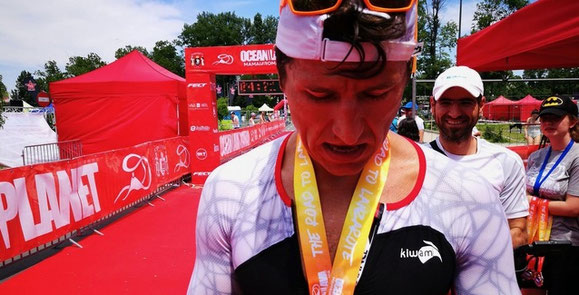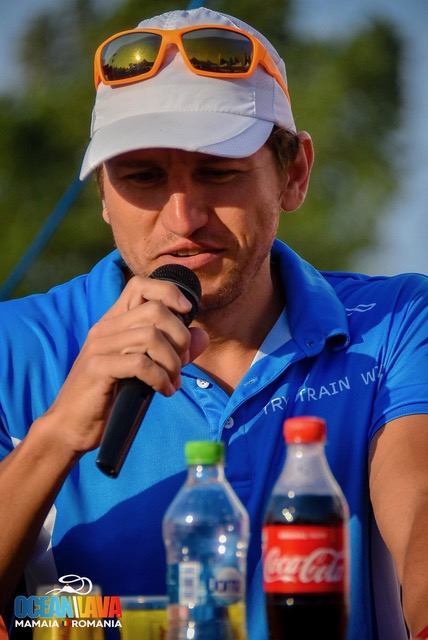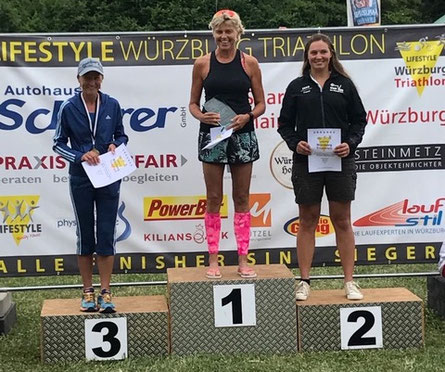 Boris Hueber was racing the Sprint Triathlon Vallée de joux, France. He had a good day out there. Boris exited the water in 38th position, one minute behind the leading man. On the bike he overtook rapidly almost the whole field with the 4th fastest bike split of the day. With a solid 17mins run at the end Boris won the "chocolate medal", 4th place. While it was only a Sprint Distance he cycled 50kms back home and finished the day of with a 10kms run. Glad to see Boris improving in all 3 sports. He's really on fire now. Like Mihai, he only has to stay calm and patient now to reach his goals. 
Carmen Grosse had a start-finish victory at the Half Distance triathlon, Germany. This time she did not "only" win her Age Group - no, she took the over all win! Although it was not one of the big, big races it was more than great to see the leading bike in front of Carmen. Well done on a great job! Happy Carmen keeps showing the girls how winning is done! ;-)