by Jo Spindler | race results
Over the past 4 weeks I had some outstanding performances with my athletes at Paracycling World Champs, Ironman 70.3 World Champs, ETU European Champs and Ironman races. Just to highlight some of the most outstanding performances: ITU Long Distance European Age Group Champion Steffi, 70.3 World Champs 3rd place Sabrina, Bernat 5th place at the Duathlon World Championships Zofingen, Thomas Schäfer 5th place Paracycling World Champs South Africa, Rowan winning his AG at 70.3 Cascais, Neil McLoughlin finishing 2nd at 70.3 Cascais, both qualifying for 2018 70.3 World Champs, Jen Wood winning her AG at 70.3 Weymouth, Alicja securing her Kona Slot for 2018 with 2nd place at Ironman Wales, Viola and Dominique winning the Tortour, the toughest road race in Switzerland. Please read on for many more great race achievements from my athletes. 
World Championship Ironman 70.3 Chattanooga 
Sabrina Stadelmann was looking forward to the Ironman 70.3 World Championships in Chattanooga for the whole season. She won a lot of races in her Age Group before like 70.3 Vichy, 70.3 Lanzarote and 70.3 Bahrain. Therefore we were sure that she is going to have a good one in the U.S.. Unfortunately she had not the strongest day in the water but made up a lot of places on the bike. It was such a close race and only on the last kilometre Sabrina gained her 3rd place of her Age Group. Really great fighting Sabrina!
But Sabrina was not the only one who was qualified for the big game. Sandra Schöni, Doro Karbach, Mihai Vigariu, Ebrahim Alromahi and Rana al Alawi were taking on that challenge while being proud representatives of their countries. Happy to see al of you fulfilling your dream by taking part at the World Champs and competing against the best.
---
World Championship Duathlon Zofingen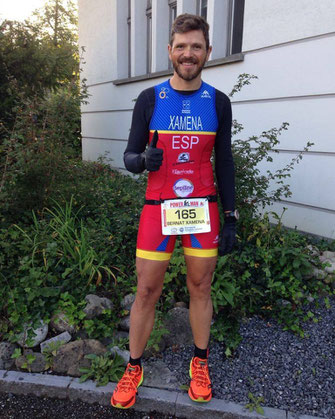 Bernat Xavier Vidal qualified for the Powerman Duathlon World Champs in Switzerland as a proud representative of Spain and his loved home Mallorca. While living on a warm Island it was a big challenge for Bernat to race in the cold and rainy Suisse Summer. But he kept himself warm, ran and cycled superb on the toughest Duathlon course you can imagine.
Much tougher than any Ironman - that you can trust in.
The professional trumpet player Bernat placed 5th in his Age Group which is an excellent result of someone who just recently started racing. His family can be very proud of him;-)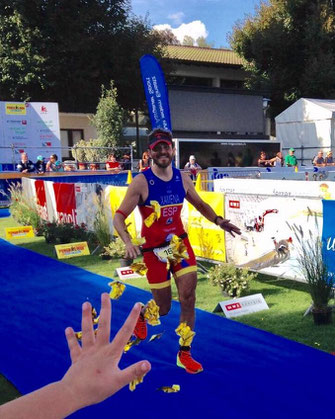 ---
ITU European Long Course Championship Challenge Almere
 Steffi Jansen raced her second long distance after having a really great race at Challenge Roth. We were just deciding a few weeks before to race the ITU European Long Course Championship Challenge Almere. While knowing that the training was not perfect Steffi was putting her head down and managed to overcome the lack of running kilometres on the final marathon with her very strong mind and will. Steffi won the Age Group Category over all which means she is now European Age Group Long Distance Champion. Over all she placed Top10 including the Pro Ladies - really proud to work with such a dedicated athlete!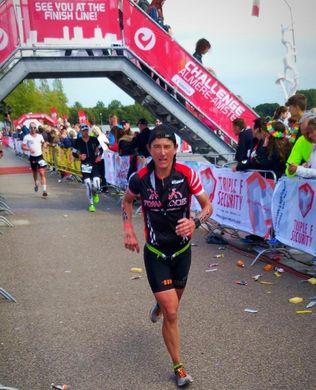 ---
Tortour Switzerland 
Viola Frey and Dominique Chassot cycled the toughest road bike race in Europe "Tortour" of Switzerland. In a female relay they cycled 1000 kilometres and climbed 13.000 meters of altitude. Their husbands, friends and me as their coach were supporting them for 40 hours. The tour went through whole Switzerland. These two ladies were cycling like hell no matter if it was rainy or sunny, night or day. Supporting them made a lot of fun and winning the female category of this race with Viola and Dominique is an overwhelming feeling.
---
Ironman 70.3 Weymouth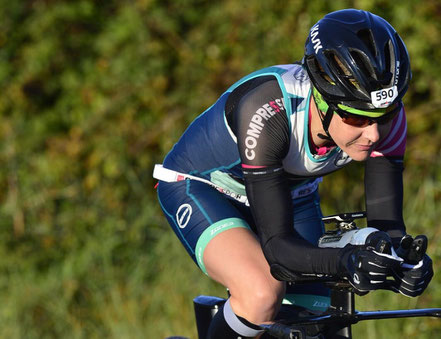 Jen Wood had a fantatic race at Ironman 70.3 Weymouth, winning her age group! When we started working together, Jen was still recovering from injury. We put a lot of thinking and discipline into her training, to get her back to health and keep her injury free. Not only did we achieve that, but Jen did some fantastic racing during this time. From doing her first 70.3 ever to her first AG-win only too her less than 4 months. We had a very detailled race plan. As we knew, that the race in Weymouth would be a challenging cold and rainy one, a very import part of Jen's success was preparing the right equipment for that conditions. We decided that she will not hurry her transition after the swim, but take the time to dress up for a chilly ride. Winter underwear, gloves, arm warmers, plastic bag, everything was ready and proved to be very helpful. Jen executed to perfection, struggled a bit on the swim, made her way through the ranks on the bike already and put out a fantastic fast run to win her age group with almost a 10 minute margin to 2nd. Congrats again Jen! Very well done!
---
Uster Triathlon Switzerland
Sabrina Stadelmann, Jeanine Zenker and Sandra Schöni race the Olympic Distance in Uster. Again Sabrina won her Age Group in a very great style and placing 3rd over all,  although Sandra had to go to the penalty box - where she can't name her fault - she became 8th in her Age Group and Jeanine Zenker is back to racing with a big smile and a new PB. Very well done girls!
Nice gallery of Jeanine's race:
---
Ironman Wales
Alicja Medak tried to race Ironman Wales. Yes, I'm writing try because you can't call it racing due to the horrible weather. You have to call it survival training. But Alicja is really good in such things and she put her head down. Goal was to get her Kona qualification for 2018. And she executed in perfect manner. Alicja became 2nd of her Age Group and saved her slot - really happy to already have with Alicja my first Kona qualifier for 2018!
---
Ironman 70.3 Cascais, Portugal
Rowan Vorster and Neil McLoughlin both raced the 70.3 Cascais. And both executed the race plan perfectly. Neil became 2nd in his Age Group and didn't take his 70.3 World Champs South Africa Slot because he already got qualified beginning of August at IM 70.3 Gdynia.
Similar situation for Rowan who already got qualified at 70.3 Sweden with a 4th place in his AG. This time he was topping everything. Rowan won his Age Group. He had a simply perfect race and won his age group at Ironman Cascai 70.3. He is getting stronger from race to race and it's great to see what a huge difference the new training approach makes and how quickly Rowan progresses. He's done well, so he get's an easy week to recover before we enter the final weeks of his Kona preparation.
---
More outstanding results
Andrea Bruhin raced Ironman Mont Tremblant. Let's describe it in her own words:
"5th Ironman is in the books! Super happy with the 12h50 result! It was a spectacular event: Swim: well, the swim is the swim, nothing to add 😝 
Bike: in addition to the 1800 meters in altitude that head/cross wind on the second loop was wicked. Still managed in 6h10 (20 min ahead of schedule) 
Run: managed to finish off with a new marathon PB 4h53 which I was quite amazed after that tough bike! 
My special thanks go to Joseph Spindler who kept me going and focused the past two months; 2018 goal is sub 12!"
---
Diana did the Artiem Half Menorca Triathlon winning the women's race. This race fitted perfectly into her preparation for Kona. It was a intense and very tough training day with not only 1200 meters of altitude on the bike but also a hilly (but very scenic) half marathon in Fornells. Great race, great outcome! And winning gave Diana that confidence for the big game on Hawaii.
Just three weeks after his 5th place at the Duathlon World Championships Zofingen Bernat Xamena had a great day on Menorca. The days before the race he had strong pain in his foot and we were not sure if could run at all. That's why we said he just does the swim and bike and sees how it goes on the run. Surprisingly the pain was almost vanishing and he became 3rd in his Age Group. After the race we said tomorrow you have to run a marathon, then your foot will be totally fine;-)
---
Moritz Bachman did a family run day with his kids in Hegenheim (F): they ran 250meters and Daddy 11,6km, 11th over all.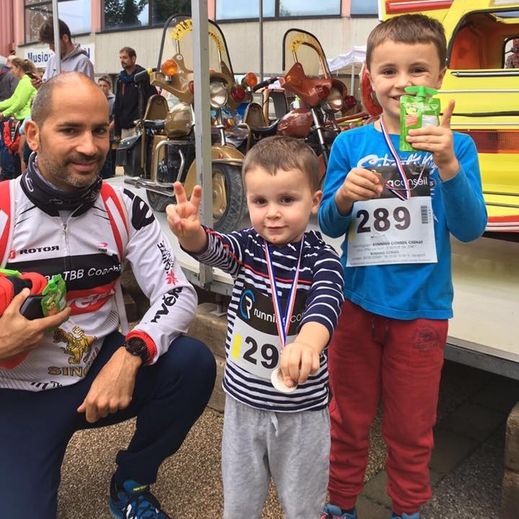 ---
Thomas Schäfer raced the Paracycling World Champs in South Africa. While he struggled a bit on the individual time trial on Thursday (still finished Top-10), he had a great road race on Sunday. He managed to stay within the lead group for the entire race and did a lot of work, but couldn't break away. It was a sprint finish, where he finished 5th, not an inch short of a medal. Congrats to Top-5 in the World, Thomas. Next time, we get that medal!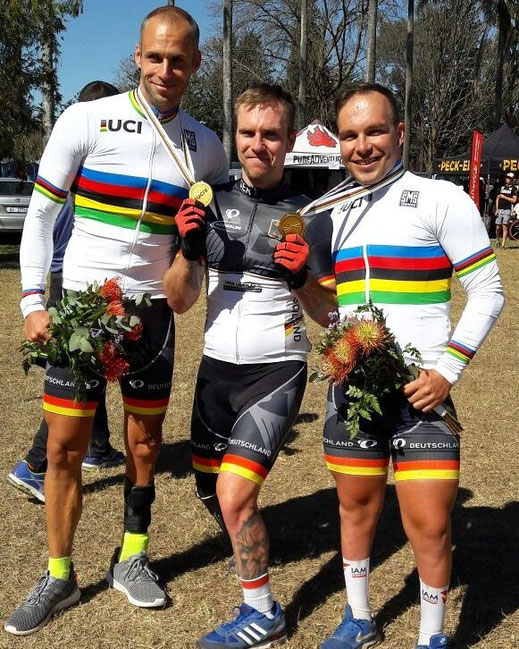 Markus Hörmann ran a half-marathon in his hometown Bad Tölz. Final time was 1:14 and a 2nd place.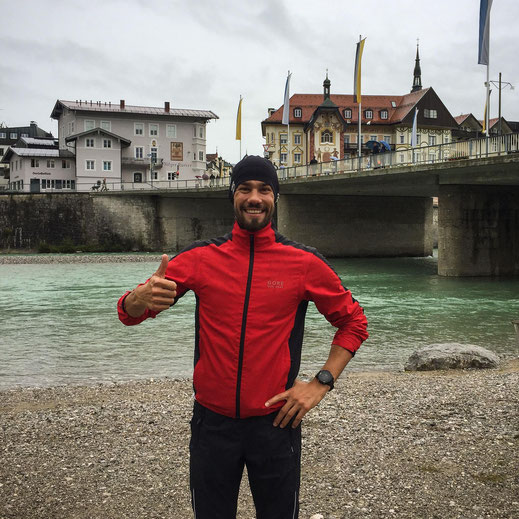 ---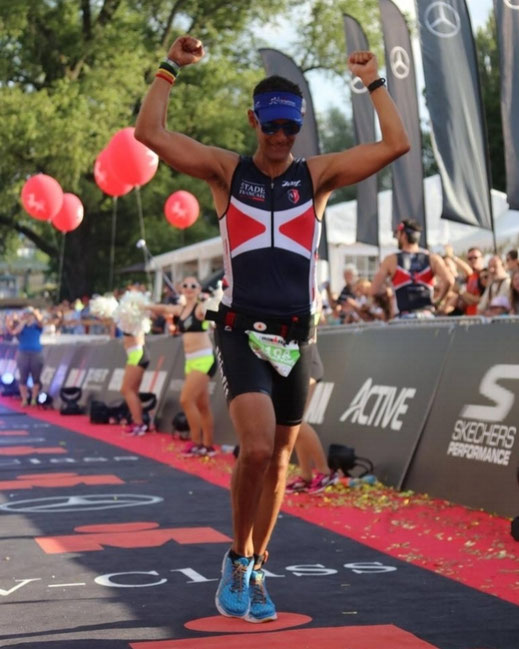 Together with some of my other athletes, Adi Glättli escaped the bad weather around Zurich region when he raced the Locarno triathlon. Only 2 weeks after a good performance at Ironman Sweden he had another great race and another 11th place finish - very close to the Top-10 in his age group. Well done!